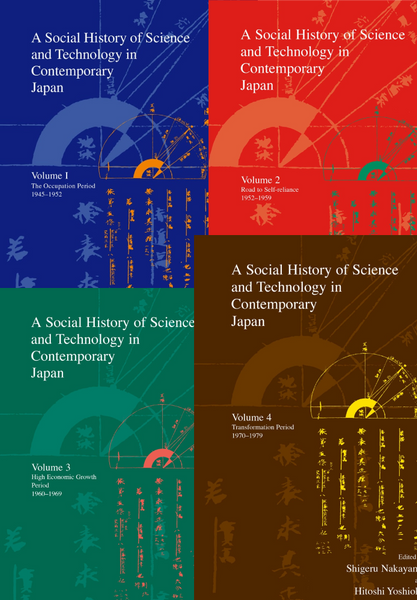 Additional information:
2646
01/02/2008
Vol. 1: 6.75 x 9.25
Vol. 2: 6.5 x 9.25
Vol. 3: 6.25 x 9
Vol. 4: 6.5 x 9.25

9781876843502
A Social History of Science and Technology in Contemporary Japan (Complete Set)
[Four-Volume Set]
Japanese Society Series
Order all four-books together for "A Social History of Science and Technology in Contemporary Japan" which documents the miraculous growth of Japanese science and technology from post-war devastation to its attaining a leading global status. A team of more than fifty Japanese experts labored for ten years in assembling the unique materials into...
About Editors and Authors
NAKAYAMA Shigeru was a leading Japanese scholar specializing in the history of science. He was Professor Emeritus at Kanagawa University and Vice-Chairman of the International Academy of the History of Science. In 1945, he joined the Hiroshima High School Science Class (now Hiroshima University), and was exposed to the atomic bomb at his residence. In 1948, he moved to Tokyo to join the Department of Astronomy, Faculty of Science, University of Tokyo, and upon graduating in 1951 was employed by the publisher Heibonsha. In 1955, he joined the Graduate School of Harvard University as a Fulbright Scholar and was awarded a PhD in 1960. After returning to Japan, he served in the Faculty of Arts and Sciences of the University of Tokyo as Lecturer, and later went on to become Assistant Professor. He retired from the University of Tokyo in 1989 and became Professor at Kanagawa University. His career produced a wide range of research achievements, including in the history of science and technology in China and Japan, the history of universities and the social history of science. He passed away in 2014.